>>> Jan Machulski Awards
SCREENING IV | 2 November 2022 | 19.00
FOLLOWERS. ODPALAJ LAJWA
reżyseria / directed by Jakub Radej
29 min | Studio Munka SFP | Polska / Poland 2022
NOMINACJA: Najlepszy Aktor
NOMINATION: Best Actor – Adam Borysowicz
NOMINACJA: Najlepszy Aktor
NOMINATION: Best Actor – Ignacy Liss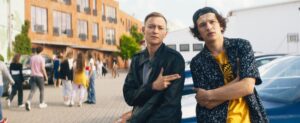 W Europejskim Liceum Społecznym rozpoczyna się rok szkolny. Będzie wyjątkowo, ponieważ ma przyjechać noblistka Olga Tokarczuk. Będzie wyjątkowo, bo licealista Adam i jego kolega z Internetu mają szczególny plan na transmisję on-line.
A new school year begins at European Social High School. This day will be special because the Nobel Prize winner Olga Tokarczuk is coming and because Adam and his internet friend have a clever plan for an online broadcast.
MARTWE MAŁŻEŃSTWO
reżyseria / directed by Michał Toczek
19 min | Szkoła Filmowa w Łodzi | Polska / Poland 2022
NOMINACJA: Najlepszy Aktor
NOMINATION: Best Actor – Sebastian Stankiewicz
NOMINACJA: Najlepsza Reżyseria
NOMINATION: Best Director – Michał Toczek
NOMINACJA: Najlepszy Scenariusz
NOMINATION: Best Screenplay – Patrycja Polkowska
NOMINACJA: Najlepsze Zdjęcia
NOMINATION: Best Cinematography – Tomasz Pawlik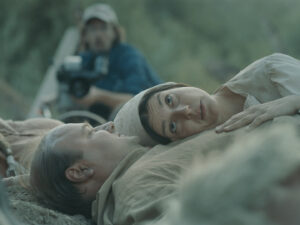 Słodko-gorzka opowieść o spotkaniu dwójki ludzi w nietypowych okolicznościach. Filip jest mężczyzną w średnim wieku. Pracuje jako zawodowy statysta filmowy, specjalizuje się w rolach martwych ciał. Na planie filmu historycznego poznaje Łucję, która wciela się w rolę martwej kobiety. Kiedy Filip i Łucja leżą na sobie podczas ujęcia, nawiązuje się między nimi relacja.
Filip works as a professional movie extra and he always plays roles of dead bodies. On the set of a historical film, he meets Lucy, who also happens to be an extra, playing a role of a dead woman. Whilst laying on top of each other during long filmmaking hours a bittersweet relationship develops between them in the unusual circumstances.
MÓJ BRAT RYBAK
reżyseria / directed by Alicja Sokół
20 min | Warszawska Szkoła Filmowa | Polska / Poland 2021
NOMINACJA: Najlepszy Aktor
NOMINATION: Best Actor – Emil Siennicki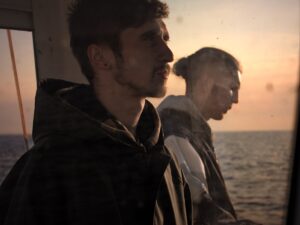 Gdzieś na końcu świata, w małej wiosce rybackiej żyje dwóch braci, którzy są od siebie zupełnie różni. Kiedy starszy poświęca się pracy, młodszy każdego dnia słucha w radiu audycji konkursowej, która może zmienić jego życie na lepsze. Nagłe zniknięcie ojca zmusza braci do przejęcia jego obowiązków w porcie, a zarazem do zbliżenia się do siebie.
Somewhere at the world's end, in a small fishing village, live two brothers who couldn't be more different. Every day, while the older brother works hard, the younger one turns on the radio to participate in a competition in hope that winning will change his life. A sudden disappearance of their father forces both men to take on his mantle in the port and brings them closer together.
>>> Organizers